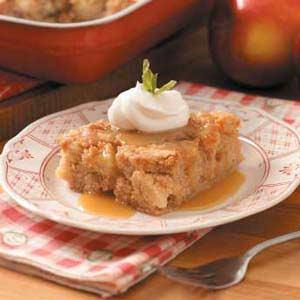 Ingredients
1/2 cup butter, softened,2 cups sugar,1/2 teaspoon McCormick® Pure Vanilla Extract,2 eggs,2 cups all-purpose flour
1-1/2 teaspoons ground cinnamon,1 teaspoon ground nutmeg,1/2 teaspoon salt,1/2 teaspoon baking soda,6 cups chopped peeled tart apples,
BUTTERSCOTCH SAUCE:
1/2 cup packed brown sugar,1/4 cup butter, cubed,1/2 cup heavy whipping cream
Directions
1.In a large bowl, cream the butter, sugar and vanilla. Add eggs, one at a time, beating well after each addition. Combine the flour, cinnamon, nutmeg, salt and baking soda; gradually add to creamed mixture and mix well (batter will be stiff). Stir in apples until well combined.
2.Spread into a greased 13-in. x 9-in. baking dish. Bake at 350° for 40-45 minutes or until top is lightly browned and springs back when lightly touched. Cool for 30 minutes before serving.
3.Meanwhile, in a small saucepan, combine brown sugar and butter. Cook over medium heat until butter is melted. Gradually add cream. Bring to a slow boil over medium heat, stirring constantly. Remove from the heat. Serve with cake. Yield: 12-14 servings.