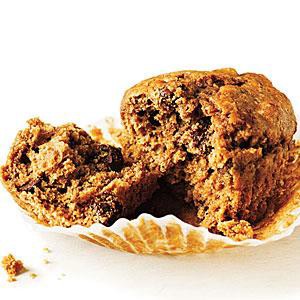 Ingredients
2/3 cup whole milk
5 tablespoons butter, melted
3 tablespoons instant coffee granules
1 1/2 teaspoons vanilla extract
1 large egg, lightly beaten
9 ounces all-purpose flour (about 2 cups)
2/3 cup sugar
1/2 cup semisweet chocolate chips
2 teaspoons baking powder
1/4 teaspoon salt
Cooking spray
Preparation
1. Preheat oven to 400°.
2. Combine first 5 ingredients.
3. Lightly spoon flour into dry measuring cups; level with a knife. Combine flour and next 4 ingredients (through salt) in a large bowl; stir well with a whisk. Make a well in center of flour mixture. Add milk mixture to flour mixture; stir just until moist.
4. Spoon batter into 12 muffin cups coated with cooking spray. Bake at 400° for 18 minutes or until done. Remove muffins from pan immediately; place on a wire rack.